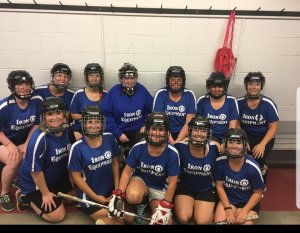 As a local company, we try to sponsor local teams around the area. We have been a proud sponsor for the Maple leaf Club in Cavan, for the house league soccer team for many years, which has been a great.  We has allowed us to watch this little club grow and become such a massive part of their community.
This year we have decided to sponsor a women's ball hockey team from Lindsay. What a fun sport to get into and if I wasn't a lone ranger myself, I might of considered this sport.
Its so nice that our company can get involved, even if it is just a little right now. We have many people we deal with everyday, that has helped us grow into the company we are. So, giving back is so important to Iron Equipment, it not only feels like your supporting others, but also makes you feel like your apart of the bigger picture.