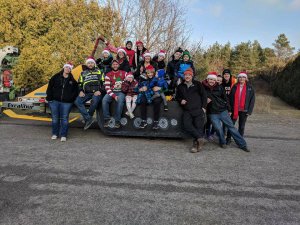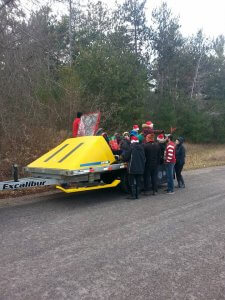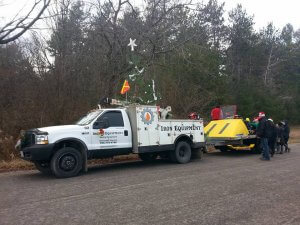 It started off Friday after work, everyone got together and started working on the float for the parade, It was a great effort by everyone and the snowmobile float really started taking shape. Now picture everyone in the shop with paintbrushes, duck tape, pizza and chicken wing, it was a sight and a lot of fun!
Sunday Morning rolled round and the Team came back to the office with their families. We all had a nice breakfast, some coffee, hot chocolate and some donuts and back to work, down around the shop. Decorating the float was next with lots of festive items. it was a fun filled day.
Finally the time arrived, everyone hoped on the float and Jack drove us into Pontypool and we drove down the streets of Pontypool music a blaring and candy in hand for the children watching. It was a lot of fun and a great time spent with the Iron Equipment Team and their families.
This day and many more in the past has really shown us what a great team is and how through all the hard work and the dedication from the team opens your eyes to what it means to blend and work well together, Iron Equipment is truly fortunate to have such great people aboard this crazy ride.
And now that this post is a little late because we are in January, we are hiring again and looking at resumes, so I will be super excited to introduce the next new team member in the near future. Also, I will be posting soon. welcoming our new apprentice Matt on board, he has now been with us since the beginning of November.